Do you really want to delete your account?
After removal you will not be able to regain access to it
Joint
Advertising
Campaigns

Joint Advertising
We invite you to participate in a joint investment to the WholeWorld advertising campaigns
and, as a result, get an additional influx of new customers for your structure!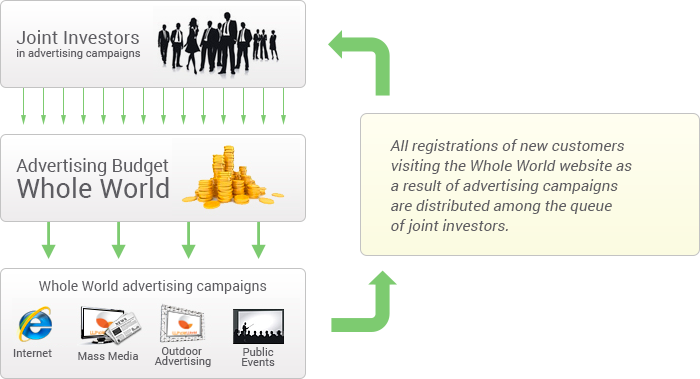 How does this work?
1

We are going to launch large advertising campaigns

We are concluding contracts on large advertising campaigns with different advertising platforms.
We determine the exact terms and conditions of each campaign, the scope and costs of advertising, prepare advertising materials.
2

Then, we collect the necessary advertising budget.

Information about the planned advertising campaigns can be found in this section.
For each advertising campaign, the realization conditions are described in detail, the limit and cost of available investment places are determined.

The Whole World participants have the opportunity to become the Joint Investors of such advertising campaign by paying for one or several investment places.
3

We launch the ads and get new customers

Once the necessary amount has been reached, the acceptance of investments is stopped and the advertising campaign is launched.

Each advertising campaign has a unique click-through link whereby the system determines the ad by means of which a visitor came to the website and, upon registration, automatically distributes such customers among the queue of Joint Investors of this advertising campaign.
Current advertising campaign
(investments collected)
Video advertising on the SurfEarner portal

Broadcasting of Whole World's video presentations with guaranteed views

Capacity:

500 000 impressions

Duration:

Until 500 000 impressions are reached

Available:

Russia and CIS countries

Status:

Run
VIP ad placement at the SurfEarner portal

Ads in a big block located at the bottom of the users' personal offices

Capacity:

1 000 000 impressions

Duration:

Until 1 000 000 impressions are reached

Available:

Russia and CIS countries

Status:

Run
VIP ad placement at the SurfEarner portal

Ads in the left vertical sidebar of the users' Personal Offices

Capacity:

1 000 000 impressions

Duration:

Until 1 000 000 impressions are reached

Available:

Russia and CIS countries

Status:

Run
VIP ad placement at the SurfEarner portal

Ads in the TOPLINE of the users' personal offices

Capacity:

1 000 000 impressions

Duration:

Until 1 000 000 impressions are reached

Available:

Russia and CIS countries

Status:

Run
VIP ad placement at the SurfEarner portal

Ads in the pop-up menu of the browser plug-in

Capacity:

1 000 000 impressions

Duration:

Until 1 000 000 impressions are reached

Available:

Russia and CIS countries

Status:

Run
Banners impressions on the Internet users' browsers

The Whole World's advertising banners impressions by means of the SurfEarner plug-in

Capacity:

1 000 000 impressions

Duration:

Until 1 000 000 impressions are reached

Available:

Russia and CIS countries

Status:

Run